Lower Owens River Project
The Lower Owens River Project (LORP) (see map) is the largest river restoration of its kind ever undertaken in the United States. This dynamic adaptive management project, initiated in December 2006, encompasses re-watering a 62-mile-long stretch of river and adjacent floodplain left essentially dry after the river was diverted into the Los Angeles aqueduct in 1913. In addition to the new riverine-riparian habitat, the project also includes the 20,400-acre Blackrock Waterfowl Management Area, several Off-River Lakes and Ponds, and the Owens River Delta Habitat Area.
With the sustained release of water and seasonal high-water flows, willow and cottonwood are coming back; songbirds, waterfowl, and shorebirds, are appearing in increasing numbers; recreational opportunities for anglers, botanists, hunters, hikers, boaters, and bird watchers have been enhanced.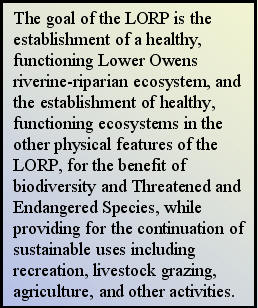 Annual Reports:
Guiding Documents:
Under the Inyo/Los Angeles Water Agreement, the County and LADWP are committed to rewater the full 60-mile reach of the river as part of the Lower Owens River Project. The project will also provide permanent water supplies to several lakes and ponds and to two waterfowl and shorebird habitat areas totaling approximately 1,800 acres. Water for the project will be supplied from the Los Angeles Aqueduct. LADWP plans to construct a pump system at the north end of Owens Lake, which will pump up to 50 cubic feet per second either to the aqueduct or to Owens Lake for dust control.
A 1997 Memorandum of Understanding between Inyo County, LADWP, the California Department of Fish and Game, the State Lands Commission, the Sierra Club, and the Owens Valley Committee expanded the LORP to include a permanent base flow of 40 cubic feet per second in the river channel and higher seasonal habitat flows. An Action Plan, which is an appendix to the MOU, describes the guidelines and approach for planning the LORP. From these documents, a management plan and project description will be developed.
Other LORP links: